Questions about the order
Is it possible to order an individually designed mirror?
Yes. On our website we present to our clients a large variety of mirror' designs. You can also specify the size of a mirror and if wished even to modify slightly the lighting ornament and change its position on a mirror's surface!
Besides that we are ready to produce an individually designed mirror. Send your requirements (measures, drafts, technical requirements etc) to the info@j-mirror.com. As soon as possible we will give you an answer regarding the possibility of such a production, delivery time and prices.
Is it possible to order an individually sized mirror?
Yes! Choose from the list with standard sizes on the mirror's page the size which is closest to the desired one and press the button "I need another size". In construction mode you can specify the most suitable size.
If you need a size which is beyond the range possible for a construction mode, send your request to info@j-mirror.com. As soon as possible we will give you an answer if it is possible to produce a mirror this size.
Is it possible to order big sizes?
Yes, this is possible. Please send your desired mirror dimensions to
info@j-mirror.com
. We will answer you quickly!
Why should I register on the website?
Your mirror will be manufactured individually accordingly to your specifications and delivered to the desired address. In order to identify the mirror in our productions system and ship it to the correct address we need some of your personal data like the name, phone and address. The registration process is very simple and takes less than 1 minute.
Your order confirmation will be sent to your e-mail address which you indicate during the registration.
Shipping and payment
Shipping.
We ship our products in collaboration with the DPD, TNT or DHL. The shipping cost is automatically calculated during order process and depends on your mirror size.
Delivery time.
We produce mirrors accordingly to our customers' specifications. Because of that we need about 14-16 days after an order confirmation for a mirror production. The total delivery time including production and shipping is about 21 days.
Damage during delivery?
Each of our mirrors has a special shipping package which gives a maximum protection during the transportation. As an experience has showed the chance of damaging is less than 1%.
Though, at the moment of delivery you have to check if a mirror has not been broken. Open a package and check the mirror at the moment of delivery. If it is broken give it back to the delivery service. We will send you a replacement mirror.
If a delivery service doesn't allow you to open a package, refuse the receipt and report this fact to us in any way convenient for you.
A client bears the responsibility for the mirror's damage from the very moment of receiving it from the delivery service.
Technical questions
Mirror mounting.
Mirror design created in a way as to facilitate the mounting of the mirror and its wiring.
The mirror is mounted on the screws installed in the wall. The User Manual that comes with the mirror provides detailed instructions how to make marking of the wall for screws and further installation of the product.
There are special holes in the mirror holding profile (mark 1 on the drawing below). For the mirror mounting it is necessary to align these holes with the screws on the wall.
| | |
| --- | --- |
| Scheme of the mirror rear side | 1 - Mounting holes. It is possible to mount the mirror vertically and horisontally. |
Connecting a mirror to the electricity.
Important! De-energize the mirror's supply wire before commencement of works!
J-Mirror illuminated mirrors are to connect to the 230 Volts supply wire with earth connection and which is coming out of the wall in the place where a mirror is supposed to be installed. That is why a separate energy wire with a plug is not supplied.
On default the switch is not installed into the mirror, because the switch on/off is also supposed to be external as it occurs in many types of illumination devices. But for many mirrors there is an option to order a switch.
A mirror comes with a detailed instruction for installation and electricity connection.
Where should a wire comes out of the wall to connect a mirror?
If you already have the wire in another place please gives us the details. In most of cases we find the solution.
If the wire in your room has already been put in another place, please give us details. We always find a solution how to connect.
Installation of a mirror in a humid place.
Juergen illuminated mirrors correspond to the IP44 moisture protection rate and can be installed in the zones 2 and 3 of the bathroom. IP44 standard means the protection of a product against the splashes. You can see the bathroom zones on the following picture.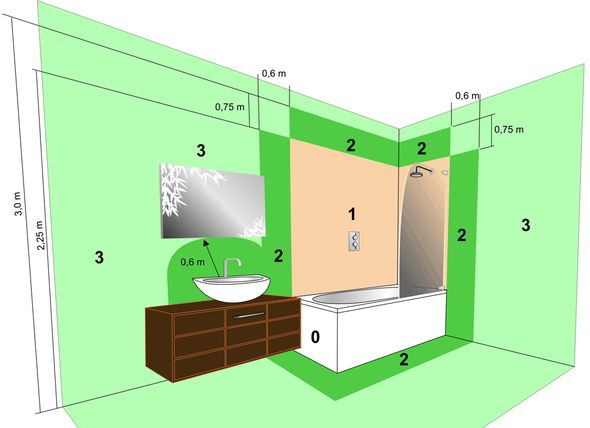 LED life time.
The service life of LEDs is about 50 000 hours of continuous operation.
LEDs replacement in the LED illuminated mirror.
Since LEDs life time is 50 000 hours, they are not supposed to be replaced in the Juergen LED mirrors.
If for some hardly probable reason the LEDs don't work, consult the paragraph about "Guarantee and after guarantee service" on this webpage.
Mirror thickness.
Mirror thickness (depth) depends on mirror series:
Juergen LED, LED ST, LET Star, LED Tube series – 30mm.
Hollywood series – 45mm without lamps.
What kind of mirror is used?
For our mirrors production we use Mirox New Generation Ecological (MNGE) mirror glass produced by AGC which is the world biggest glass manufacturer. This mirror material has the following benefits:
Copper- and lead-free which implies environmentally friendly and corrosion resistance.
The patented manufacturing process ensures that MNGE has a superior quality: a highly resistant mirror that easily exceeds the most stringent quality and resistance standards.
Unparalleled protection to corrosion and ageing: lasts 3 times longer than conventional mirrors.
Enhanced resistance to harsh cleaning products: 7 times more resistant than conventional mirrors.
MIROX MNGE copper- and lead-free corrosion-resistant mirrors prevent pitting or bloom over time.
Manufactured using an environmentally friendly process.
Mirror installation in a niche.
It is possible to install our mirrors in a niche taking into consideration the following facts:
The niche width should be not less than the mirror width plus 8 mm.
The mirror top edge should be at least 21 mm lower than the top edge of the niche.
Mirror switch position should not be too close to a side part of the niche.
If you are going to place your mirror in a niche please indicate this fact as a comment to the order.
How strong is the illumination of the mirrors?
Our mirrors backlight has both decorative and practical functions. All illuminated mirrors provides enough light for regular shaving or make-up.
For mirrors with integrated LED backlight illumination level is proportional to the square of the mirror light area. Therefore bigger light area means more light.
The biggest illumination is provided by our Hollywood mirrors. The design of this series is traditional for make-up studios.
Mirror storage before installation.
It is necessary to keep packed mirror at room temperature in well ventilated conditions.
Handling a mirror.
Do not use the mirror in rooms where the temperature is above 40 or below 0 degrees Celsius.
Do not mount the mirror in places of constant direct contact with water (shower).
Do not use solvents and detergents which are not intended for mirrors care.
Do not use abrasive cleaners, powders for kitchens, stoves and other household chemicals, as well as solid sponges, scrubbing brushes, etc.
Use soft sponge or soft cloth for cleaning the mirror.
Do not use gasoline, thinner or other organic solvents.
Wash the mirror immediately by clean water in case there is a contact of the mirror surface with hair dye, bleach and other alkaline chemicals
Questions on options
Where a clock control is located?
| | |
| --- | --- |
| | An integrated clock control unit is located on the bottom end side of a mirror like it is shown on the picture. Thanks to this position it is very convenient to adjust the clock time. |
How to choose a defogging heater size?
The heater size 25x25cm provides enough mirror surface without fog to see your face. If you like to have bigger area without fog you can choose the heater 25*57 cm.
Guarantee and after guarantee service
Period of a guarantee.
We provide 2 years of guarantee.
How does the guarantee service work?
If during a guarantee period a technical problem with your mirror has occurred, report it to e-mail address support@j-mirror.com. The message should contain your order number and the problem description.
If our intervention is necessary for solving the problem we will email you an authorization number for returning the mirror. You will have to send the mirror to our address mentioned on Contacts webpage. When returning the mirror please specify this return authorization number in the enclosed document.
We will repair the mirror and send it back to the client at company's cost during 9-12 days after receiving the mirror.
Is servicing possible after guarantee period has expired?
Yes. You can send a request with questions regarding the maintenance after guarantee period to the address support@j-mirror.com. The order number of your mirror and the problem's brief description should be mentioned in the message. We will give an answer as soon as possible.